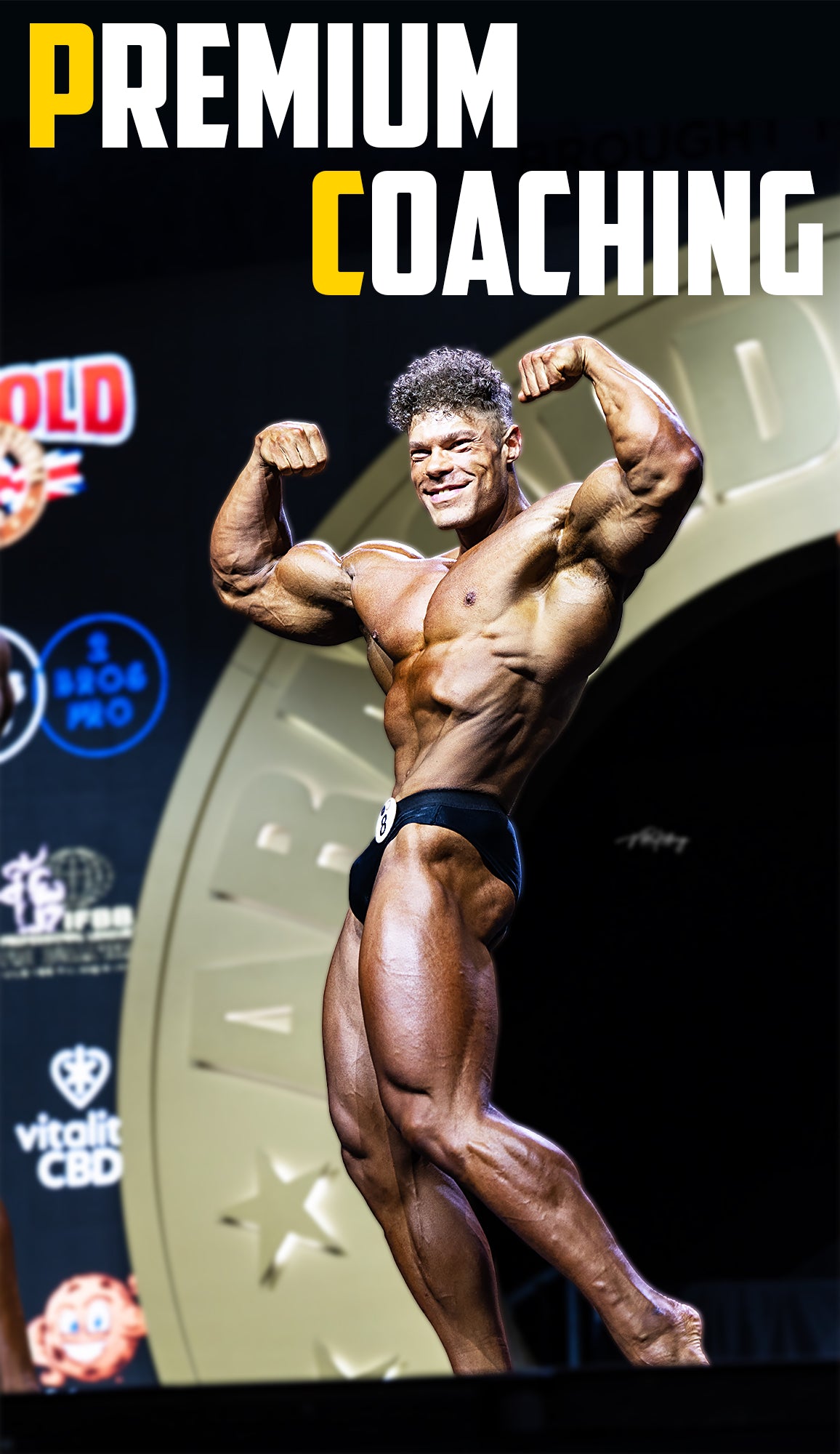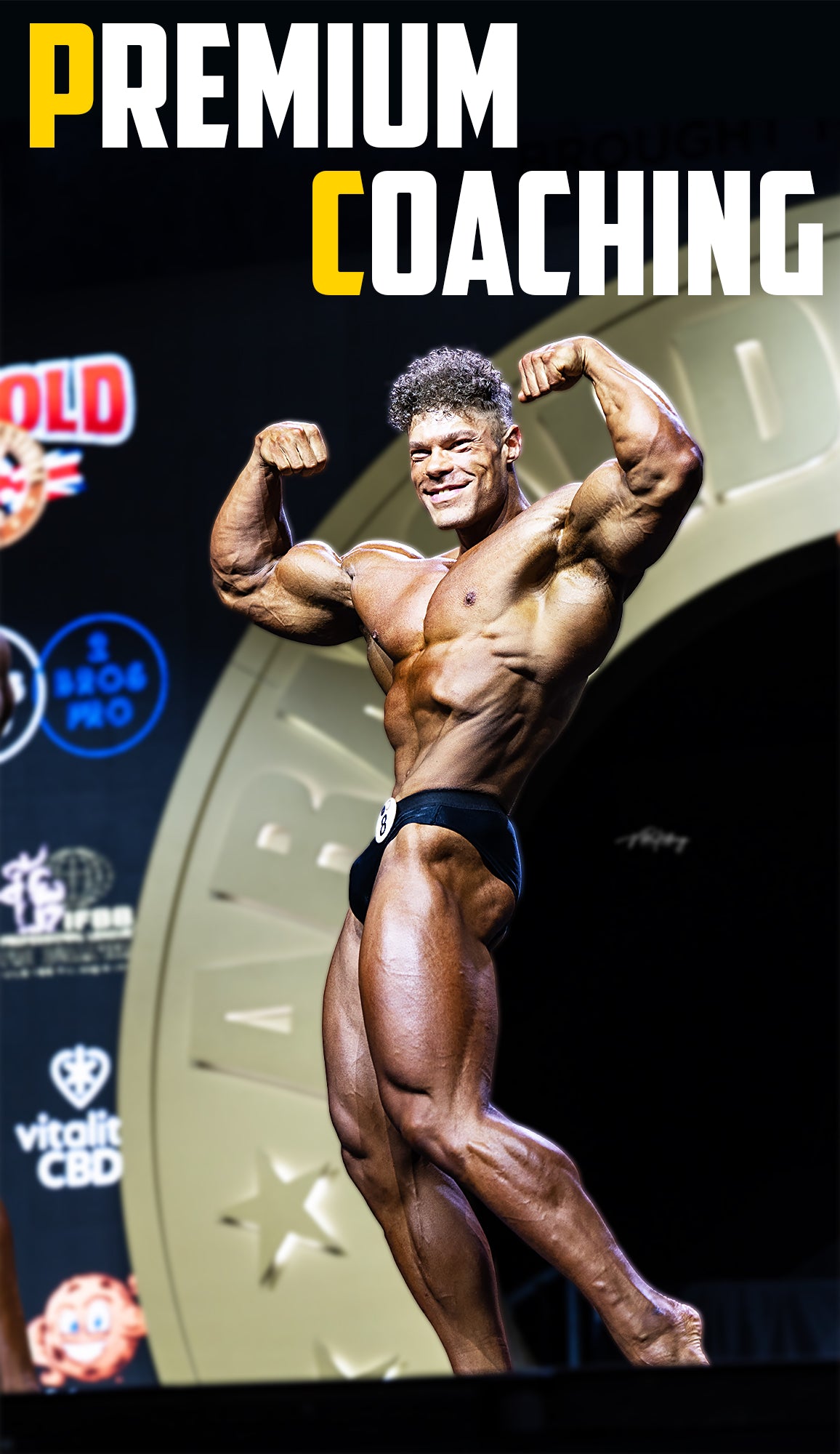 Wesley Vissers
Premium Coaching by Wesley Vissers
"Progress is nice. Hitting goals is better. Let an Olympia-level bodybuilder show you the ropes…


Get your "tailor-made" workout and nutrition coaching here."


It's not hard to make "some" progress, it's hard to keep making progress. 
At some point (like most people), you will hit a plateau. You won't see the results you got used to and your goals seem to become harder and harder to hit.
But there is good news...
No matter what your exact goal is. It's within your reach. All you have to do is bring out your maximum potential. And that's exactly what we're going to do through a combination of old-school proven methods, new insights, and an individualized approach.
And to add even more good news to it. You don't need to work out 7 times a week. You don't have to stick to rice, broccoli, and bland fish or chicken. And you don't have to spend multiple hours in the gym every session to accomplish your goals.
All you need are plans that match your goals, lifestyle, and needs. 
And a pair of objective eyes to objectively judge your progress. Someone with experience that can make adjustments to your plan whenever necessary. (or sometimes even more important, to prevent you from making unnecessary adjustments that kill your progress) 
On this page, you'll read more on how to get all this, without you spending hours researching, watching videos, or reading books.
And the best thing is that the approach you'll read about on this page works for almost every goal. That's because it's NOT a one-size-fits-all approach. 
The coaching has always been very personal, but I've found ways to make it EVEN MORE PERSONAL… 
… this resulted in the NEW Premium Coaching by Wesley Vissers…
The fully personalized and optimized coaching approach for building the physique of YOUR DREAMS. 
Because of the high level of personalization, this isn't just for professional bodybuilders. This is for everyone serious about achieving their best physique —no matter your current level or your goals.  
During the coaching we will bring out your maximum potential using a combination of proven old-school methods and new insights.
But who am I and why should you trust me?
On top of having a career as an Olympia level bodybuilder, coaching over 450 clients and designing over 4,200 workout and nutrition plans, and my education in Nutrition and Dietetics… I also work with the best coaches myself, and I continuously get new insights from being in the trenches with coaches and thousands of aspiring bodybuilders and fitness fanatics.
My true passion is old-school bodybuilding, and that passion is what I want to share. So the core foundation of the coaching will always be the proven old-school methods. And a modern touch will be there where new insights have overtaken the old-school techniques. With this combination you can build an "old-school style" aesthetically pleasing proportionate physique with a modern touch.
A big difference between the Vintage Genetics Classic Physique Coaching and most other coaching programs is that your health is always priority number one. This is something I'm very proud of. Don't expect a "just count your macros and do what you like" kind of approach. In my personal career, I always put a lot of time and attention into healthy nutrition, supplementation, and a healthy way of working out. This has made a big difference for me, and I want you to experience the same. (this also includes additional checks such as assessing bloodwork)
As a licensed dietician, I can assure you that I can help you with this healthy approach. And I can also help you with specific diets such as low FODMAP, plant-based, lactose-free, gluten-free, and so on. Everything to get you to your goals in a healthy way that suits your needs with foods that YOU LIKE. 
And now, let's take a look at what the coaching looks like and what happens after you sign up. 
What does the coaching look like? 
After signing up, I will send you an email to ask you all the necessary questions to get started on this journey together. These questions will ensure you get the most efficient and effective plans fully tailored to your situation, needs, preferences, and goals. 
After I receive your answers, I'll be going through the following steps: 
Calculate your caloric needs and macronutrient targets.
Design a detailed healthy nutrition plan

tailored to your needs and preferences. The nutrition plan will give you full clarity on what to eat to reach your goal. It indicates the exact amount of each ingredient per meal. Based on your answers to several questions we will ensure the nutrition plan consists of foods you like. Included with the nutrition plan also comes

a supplementation plan

. (And optionally - if requested - I'll design a custom PED plan.)

Design a tailored workout plan

. Designed to reach your overarching physique goal while at the same time fixing your weak points and proportions.

From there on, IT'S TIME TO GO TO WORK! 


But, you're not on your own, of course. 
We'll be having consistent check-ins. One of the most valuable aspects of a coach is that a coach can objectively monitor your progress. So that's what I'll constantly be doing, right from the start. 
Depending on your progress, I'll adjust your plans along the way. 
The check-ins will be weekly for the first 4 weeks via email. During the check-in, we will evaluate your experiences with the plans in addition to every weigh-in of the previous week. The combined information allows me to adjust the plans accordingly. After 4 weeks we will have a clear view of how it's going and what works for you. From there on, we will have check-ins every other week. But of course, you can ask questions at any time (through my personal email).
New to the PREMIUM coaching is the option to reach out to me on WhatsApp in urgent situations. For example if you get injured, when you can't find a specific food source and need a replacement, if you notice something is very off when weighing yourself or checking your shape, or if there are high-risk issues with your bloodwork. (note: non-urgent questions will still be answered in the email feedback)   
Another extremely valuable addition to the NEW coaching is the form and posing checks. On a weekly basis, you can send me a video of a specific exercise, and I'll provide you with tips and tricks to optimize the execution. If requested, I will also give feedback on your posing whenever check-in pictures are provided.
I'll also give health recommendations. Meaning I will provide recommendations regarding the bloodmarkers you should test. When the results of the bloodwork come in I will analyze them… and if any of the blood markers is off, I'll give you my advice on how to get it back into the healthy range whenever possible. This includes advice on adjustments in nutrition, supplementation stack, and more. 
Lastly, I - Wesley Vissers - personally do the entire coaching trajectory. This means this is your opportunity to work 1-on-1 with a Classic Physique Olympia athlete. And these are not my words... but several clients have told me that's a good story to share with your gym bros or girls, haha. Whether that's true or not, I leave that up to you to decide.
What I do know for sure is that I love what I'm doing. I have an extreme passion for this sport, and I love sharing that passion. My goal is to help as many people as possible achieve the physique of their dreams. The physique that makes YOU happy, healthy and that boosts your confidence. That's why you can rest assured that when I coach you, I will do my very best to bring out your maximum potential.


So let's do this! LET'S BRING OUT YOUR MAXIMUM POTENTIAL! 

SUMMARY, WHAT DO I GET?

Personalized plans
Custom nutrition plan

Custom workout plan

Custom supplementation plan

OPTIONAL: Custom PED plan (if warranted / requested)

All plans are based on an extensive questionnaire to ensure they match your needs and goals as much as possible.

Consistent check-ins
Broad weekly progress check-ins by e-mail

Based on your progress and personal experiences with the plans, revisions to the plans will be made

What's app is available for important questions and allows for quicker answers by me. Feedback is given through either text or voice messaging.

Form- and posing check
You have the option to send me a video of an exercise and I will give feedback on form and execution

You will get feedback on your poses whenever check-ins pictures are shown

Health recommendations and feedback
I will provide recommendations regarding the blood markers you should test

Based on the results of your bloodwork I will provide my personal analysis

In addition, I will give my advice on how to get your blood markers back into the healthy range wherever possible by adjusting nutrition, supplementation, stack design and more.

FAQ
I don't want to become a professional bodybuilder. Is this still for me? 
Yes, sure! Even I didn't start working out to become a bodybuilder. My coaching is for everyone that wants to build a better physique. And what that means to you is all up to you. Whether you want to gain more mass, lose a couple of pounds, or get better proportions… I'll design the most efficient plan to get you there.
Is this coaching suited for contest prep?
No, there is a specialized coaching program, "Vintage Genetics Tailored Contest Coaching." This entirely focuses on optimal guidance towards your contest. To bring out your very best physique on stage.
Some food I really don't like, will this be taken into account? 
Sure, the coaching is very personal, so everything will be tailored to your needs. If there are some foods you really don't like, I won't include those in your nutrition plan. During the initial questions before the plans are made I'll ask you about the foods you like or dislike. This is taken into account when creating the plans. If preferences change along the way, so will the foods in the plans.
What's the length of the coaching program? 
This depends. The minimum is 8 weeks. Personally, I'd always recommend doing at least 16 weeks. It takes about 2 – 4 weeks to check how your body reacts to the program. After 4 weeks everything will be optimized to boost your progress. This means you'll start seeing serious results after around 8 weeks. So,if you want to fully utilize the optimized plans and see some big improvements, I'd go for at least 16 weeks. If you want to go through a huge transformation, or if you have multiple goals... such as losing some body fat first and then building lean muscle mass... you can also sign up for full-year coaching at a discounted rate.
Who will be my coach? 
I – Wesley Vissers - will do all the coaching myself. Everything will be 1-on-1 with me.
How do we keep in touch? 
You'll get access to my personal email. You can ask questions there at any time. Coaching clients always get priority over everyone else. So, most of the time, my response time will be within 48 hours (often much quicker, but I have to be careful with what I'm promising ;) ). And you get access to my WhatsApp for urgent situations that directly influence your plans, progress, or health and therefore require a quick reply. You can also use Whatsapp to send the weekly form check video. 
Will the plans be tailored to my personal needs? 
Yes, all of your plans – nutrition plans, workout plans, and supplement advice – will be designed based on your answers to a list of questions. This ensures everything is tailored to your situation, goals, and needs. 
Is it possible to get a specialized diet? E.g., plant-based, low FODMAP, lactose-free, gluten-free, etc.? 
Yes, I'm a licensed dietician, so this is all within my field of expertise. Fun fact; I've even done one year of plant-based bodybuilding myself to prove what's possible on a plant-based diet.
What should I do if I have any questions during the coaching? 
As a coaching client, you can always contact me through my personal email.
What should I do if I have any questions right now? 
Send your questions to: info@vintagegenetics.nl, use "Coaching" as your subject line, and I'll reply as soon as possible.
How do I sign up? 
Scroll back to the top of this page, select the desired duration and click "add to cart." Then in the right upper corner of your screen go to your cart. From there proceed to check out to finish your order at our secured checkout page.